Councillors
Associate Professor Timothy J. Cole (President)
Department of Biochemistry & Molecular Biology,
Bld 76, level 3,
Monash University, Vic, 3800,
Associate Professor Cole has a tenured academic position at the Department of Biochemistry & Molecular Biology, Monash University in Melbourne, he is currently the Deputy Head of Department and he leads a medical research group investigating cell signaling steroid endocrine pathways important for mammalian respiratory development and function. He is currently on the Council of the Endocrine Society of Australia as the Honorary Secretary, a member of the US Endocrine Society and is on the editorial board of the journal Endocrinology.
Associate Professor Cole's main research interests are the developmental roles of the adrenal steroid hormones that act through nuclear receptors, particularly related to respiratory development and premature babies. Other interests include the use of synthetic steroids to treat a range of inflammatory, respiratory and metabolic diseases. His laboratory has published extensively on the role of these steroid signaling pathways in various systems in the body.
Associate Professor Morton Burt (Honorary Secretary)
Southern Adelaide Diabetes and Endocrine Services
Repatriation General Hospital
Daw Road
Daw Park. SA. 5041
Adelaide
Dr Morton Burt undertook undergraduate training at Auckland Medical School, New Zealand and advanced training in Endocrinology at Waikato Hospital, New Zealand and St Vincent's Hospital, Sydney. After advanced training, Dr Burt completed a PhD within the Garvan Institute of Medical Research, Sydney, investigating the effects of glucocorticoid excess on protein metabolism. Since February 2007 he has been employed as a Staff Specialist Endocrinologist in the Southern Adelaide Diabetes and Endocrine Service. Dr Burt is also Senior Lecturer in Medicine at Flinders University, a South Australian Health Practitioner Fellow and is Editor for Endocrinology for the Internal Medicine Journal. Dr Burt's clinical interests are pituitary and genetic endocrine disease. His primary research interest is the effect of glucocorticoid excess on carbohydrate metabolism and cardiovascular risk.
Dr Belinda A. Henry (Treasurer)
Research Fellow
Department of Physiology
Building 13 F, Wellington Road
Monash University, 3800
Belinda was awarded a BSc (Hons) degree in 1998 and her PhD in 2001 through Monash University. After her PhD, Belinda was awarded a CJ Martin Fellowship (NHMRC) to continue her research. During this fellowship period she worked at University of Bristol at the Henry Wellcome Laboratories for Integrative Neuroscience and Endocrinology. Dr Henry currently holds an academic position in the Department of Physiology, Monash University. She is the program organising chair for the ESA Seminar weekend- basic science stream and is a member of both the US Endocrine Society and the Australasian Neuroendocrine Group. Dr Henry leads the Metabolic Neuroendocrinology group at Monash University. Her research centres on the discovery of novel means of altering energy expenditure through modulation of the brain. Her work is particularly focused on the process of thermogenesis and the mechanisms that underpin this process in fat and muscle tissues.
Professor Bu Beng Yeap (President-elect)
Harry Perkins Institute of Medical Research
Fiona Stanley Hospital
Murdoch. WA. 6150.
Bu Yeap is a Professor in the Medical School, University of Western Australia, and a consultant endocrinologist in the Department of Endocrinology and Diabetes at Fiona Stanley Hospital, Perth, Western Australia. His research focusses on epidemiological and clinical studies of hormones and health outcomes in men and the interaction between hormones, diabetes and cardiovascular risk. His clinical interests are in the care of patients with endocrine disorders and diabetes. He supervises PhD students and endocrinology advanced trainees, and teaches basic physician trainees, junior doctors and medical students. He has 202 publications (including 159 original research articles) with >4,000 citations. He chairs the Endocrine Society of Australia's Medical Advisory Committee. He was first author on the ESA Position Statement on Management of Male Hypogonadism published in the MJA in 2016.
Professor Mathis Grossmann
University of Melbourne, Austin Health
Associate Professor Mathis Grossmann is a Principal Research Fellow at the Department of Medicine, University of Melbourne, Austin Health. He is a Consultant Endocrinologist and Head of Andrology at Austin Health, where he runs Endocrine Men's Health and Endocrine Breast Cancer Clinics.
He graduated with an MD from Heidelberg University Medical School and did his internship in Munich, Germany. He then spent 4 years in basic research at the National Institutes of Health, USA, and obtained a PhD at the Walter and Eliza Hall Institute in Melbourne, followed by clinical training leading to FRACP. He joined the University of Melbourne at Austin Health in 2006.
His research focuses on the roles of reproductive hormones in health and disease. His group conducts observational and interventional trials in men with i) low testosterone and chronic disease, ii) hypogonadism, iii) prostate cancer receiving androgen deprivation therapy, and iv) women with breast cancer receiving aromatase inhibition to understand how reproductive hormones regulate musculoskeletal health and glucose homeostasis, both at the clinical and the molecular level.
Dr Ann McCormack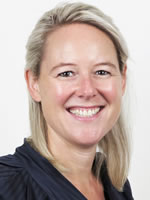 Staff Specialist, Department of Endocrinology, St Vincent's Hospital, Sydney
Head, Hormones and Cancer Group, Garvan Institute of Medical Research
384 Victoria St Darlinghurst NSW 2010
Dr McCormack graduated in 2000 from the University of Sydney and undertook postgraduate training at the Royal North Shore Hospital. Her subsequent PhD examined the role of chemotherapy and genetic biomarkers in the management of aggressive pituitary tumours. In 2010 she completed a clinical and research fellowship in the Oxford Centre for Diabetes, Endocrinology and Metabolism, with a focus on pituitary tumours. She was then appointed to her current position as staff specialist in the Department of Endocrinology at St Vincent's Hospital in 2011. Recipient of the John Shine Translational Research Fellowship in 2012, she is now Head of the Hormones and Cancer Group at the Garvan Institute of Medical Research. She is founder and chair of the Sydney Pituitary Collaborative Group and holds a conjoint lecturer position at the University of New South Wales. Her primary research interests include pituitary tumour genetics, particularly familial pituitary tumour syndromes, as well as investigation into the aggressive pituitary tumour. A second facet to her research examines the endocrine aberrations associated with obesity that drive cancer development and progression.
Associate Professor (Peter) Shane Hamblin
Department of Endocrinology & Diabetes
Western Health, Sunshine Hospital, 176 Furlong Road St Albans VIC 3021
Shane Hamblin is Head of Endocrinology & Diabetes at Western Health, Melbourne and a consultant endocrinologist at The Alfred, Melbourne. After graduating from Monash University, he trained in endocrinology & diabetes at The Alfred followed by two years at the University of Minnesota, Minneapolis USA, studying thyroid hormone action. He then worked for many years in private practice in Melbourne in addition to his public hospital appointments. He is an honorary Clinical Associate Professor (Principal Fellow) in the Department of Medicine- Western Precinct, Melbourne Medical School, The University of Melbourne and an Adjunct Senior Lecturer, Central Clinical School, Department of Medicine, Monash University. He is a member of the Pharmaceutical Benefits Advisory Committee. His main research interest is in clinical diabetes.
A/Prof Diana Learoyd
Endocrinologist
University of Sydney, Northern Clinical School
Faculty of Medicine and Health
Diana Learoyd is an Endocrinologist (Honorary) at Royal North Shore Hospital Sydney, and an Associate Professor at the Sydney Medical School (University of Sydney). She trained at RNSH and spent a year at King's College Hospital Denmark Hill London, researching thyroid autoimmunity.
She completed her PhD in the Kolling Institute of the University of Sydney in 1999, in the genetics of thyroid cancer, and of MEN2. She became a fulltime clinical academic consultant at RNSH in 1998 and has been the Director of Clinical Training at RNSH and the Co-Director of Physician Training. Her current university roles include stage 3 (final stage) lead, long case lead and MD project Co-ordinator for the Sydney Medical School at RNSH.
She set up a thyroid cancer medical database at RNSH with a NSW Cancer Institute grant. She has had a major role in the TKI clinical trials run at RNSH, for both DTC and MTC patients. She currently co-runs the endocrine tumour MDT, and has a busy clinical practice in general endocrinology with a special interest in thyroid disease of all types.
Dr Emily Mackenzie
Department of Diabetes and Endocrinology
Princess Alexandra Hospital
Ipswich Rd
Woolloongabba QLD 4102
Secretariat
Mrs Ivone Johnson
See: Contact ESA page for details and contact form.
Past Office Bearers
President
Vice President
Secretary
Treasurer
Councillors
1958-60
Ewan Downie
E. Pincus Taft
E. Pincus Taft
1960-62
Cliff W.Emmens
Keith Harrison
Keith Harrison
1962-64
Keith Harrison,
Ian D. Thomas
Ian D. Thomas
Cliff W. Emmens (March '63)
1964-66
Basil Hetzel
Victor M. Trikojus
Ivan G. Jarrett
Ivan G. Jarrett (1965), Dr R I Cox (1966)
Dr A Blackshaw, Dr R I Cox, Dr I Hales, Prof B Hudson, Prof W V Macfarlane, Dr I Thomas
1966-68
Bryan Hudson
Victor M. Trikojus
Roger Melick
Ivan G. Jarrett
1968-70
E. Pincus Taft
Ron I. Cox
Roger Melick
Ivan G. Jarrett
A W Blackshaw, B Hudson, L Lazarus, T S Reeve, R D H Stewart
1970-72
Ivan G. Jarrett
Ken A. Ferguson
T.J. Martin
Les Lazarus
R D Gordon, F I R Martin, H P Taft, Frances Thomas
1972-74
Ken A. Ferguson
Les Lazarus
Richard D. Gordon
Les Lazarus
R I Cox, F I R Martin, Frances Thomas, J R Turtle, R F Seamark
1974-76
Henry G. Burger
John R. Turtle
Sol Posen
Cres J. Eastman
D Gutteridge, P E Harding, A E Stocks, E G Wilmshurst
1976-78
Sol Posen
John P. Coghlan
Philip E. Harding
Cres J. Eastman
H G Burger, R D Gordon, D Gutteridge, C D Nancarrow, R W Retallack (Appointed 1978)
1978-80
John P. Coghlan
Cres J. Eastman
Richard G. Larkins
John W. Funder
D J Chisholm, D H Gutteridge, C D Nancarrow, M L Wellby
1980-82
Cres J. Eastman
John W. Funder
Don P. Cameron
Gary L. Warne
J P Coghlan, R G Larkins, L Lazarus, M L Wellby
1982-84
John W. Funder
Richard G. Larkins
Rob C. Baxter
Gary L. Warne
D P Cameron, J Corcoran, S Judd, P Pullan
1984-86
Richard G. Larkins
Don P. Cameron
Rob C. Baxter
David M. Hurley
L Harrison, S Judd, J R Stockigt, G L Warne
1986-88
Don P. Cameron
Rob C. Baxter
Stephen J. Judd
David M. Hurley
G Tregear, L Harrison, G L Warne, J Eisman
1988-90
Rob C. Baxter
Stephen J. Judd
Jim R. Stockigt
David J. Handelsman
J Eisman, R V Jackson, G W Tregear, P J Fuller
1990-92
Jim R. Stockigt
John A. Eisman
Geoff W. Tregear
David J. Handelsman
R. Smith, R. V. Jackson, P. J. Fuller. R. L Prince
1992-94
David J. Handelsman
Peter J. Fuller
Richard L. Prince
Duncan J. Topliss
R V Jackson, S J Judd, K Ho, G P Risbridger
1994-96
Peter J. Fuller
Richard L. Prince
Gail P. Risbridger
Duncan J. Topliss
P A Crock, R V Jackson, R J Rodgers, J D Zazac
1996-98
Duncan J. Topliss
Ray J. Rodgers
Gail P. Risbridger
Moira S. Lewitt
K Ho, R H Mortimer, R Smith, Z D Zajac
1998-00
Ray J. Rodgers
Jeffrey D. Zajac
Ken K.Y. Ho
Moira S. Lewitt,
Brendan J. Waddell (May '99)
S Stanton, R C Cuneo, R Smith, B J Canny
2000-02
Ken K.Y. Ho
Brendan J. Waddell
Ben J. Canny
Cathie L. Coulter
Dr Sonia Stanton, A/Prof Ross Cuneo, Prof Evan Simpson, Prof Bruce Robinson
2002-04
Ben J. Canny
Jeffrey D. Zajac
Ross C. Cuneo
Cathie L. Coulter
Dr John Burgess, Dr Catherine Choong, Prof Bruce Robinson, Prof Evan Simpson
2004-06
Jeffrey D. Zajac
Leon A. Bach
Mark McLean
Vicki L. Clifton
Dr Catherine Choong, Prof Evan Simpson, Prof David Healy, Dr David Torpy
2006-08
Leon A. Bach
Mark McLean
David J. Phillips
Vicki L. Clifton
Tim Cole, Evan Simpson, David Healy, Bu Yeap, Peter Ebeling, Elke-Christine Hendrich
2008-10
Mark McLean
Vicki Clifton
David J. Phillips
Bu Beng Yeap
Tim Cole, Evan Simpson, Peter Ebeling, David Healy, Warwick Inder, Helena Teede, Leon Bach
2010-12
Vicki Clifton
Peter Ebeling
Timothy Cole
Warrick Inder
Bu Yeap, Evan Simpson, Helena Teede, Chen Chen, Nicolette Hodyl, Belinda Henry
2012-14
Peter Ebeling
Helena Teede
Timothy Cole
Warrick Inder
Morton Burt, Chen Chen,Nicolette Hodyl, Belinda Henry, Ashim Sinha, Bu Yeap
2014-16
Helena Teede
Warrick Inder
Tim Cole
Nicolette Hodyl
Bu Yeap, Chen Chen, Belinda Henry, Ashim Sinha, Morton Burt, Craig Harrison, Peter Ebeling
2016-18
Warrick Inder
Tim Cole
Morton Burt
Craig Harrison
Bu Yeap, Belinda Henry, Ann McCormack, Mathis Grossmann